Everyone loves a sweet, adorable flower girl, a precious little cherub in a fluffy dress. But have you ever wondered about the tradition and etiquette behind this beautiful little tot? Let's discuss!
How did the Flower Girl tradition originate?: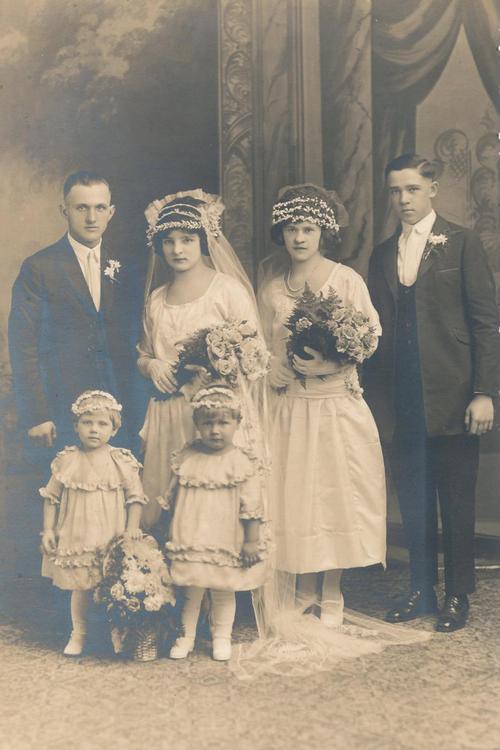 While it's difficult to pin down when some wedding traditions originated, it's pretty much agreed upon that flower girls have been around for thousands of years, although their role has changed over the millennia. In Ancient Greece and Rome, a flower girl would scatter herbs and grains to ensure prosperity and fertility within the new union. In Medieval times, flower girls carried garlic to ward off evil spirits. In the Elizabethan Era, a flower girl would follow a path of flower petals, carrying a silver cup for the bride and a rosemary sprig. The tradition from the Victorian Era, for the most part, still exists today:  flower girls wore a simple white dress and carried a basket of fresh flowers.
How old should she be?
Traditionally, flower girls are usually between the ages of 3 and 7 years old, with slightly older girls given the title of junior bridesmaid. But this is hardly set in stone. A younger toddler can easily be a flower girl (especially if accompanied by an adult) and an older girl can absolutely take on the task as well.
Does she have to wear white?
Of course not! A flower girl can wear anything you like, from pastels to brights to prints. She can wear a dress or a tutu or even fairy wings. The sky is the limit!
Can I have more than one?
Absolutely! If you're lucky enough to have more than one beautiful little girl in your life, then by all means, include them! What's cuter than a gaggle of precious little ladies?
Does she have to carry a basket and throw petals?
She can do whatever you want her to do. She's called a flower girl, but if you want to include an ancient tradition, why not have her carry a bouquet of wheat or herbs? She could carry a traditional bouquet or a pomander as well. She could toss eco-confetti or potpourri, or even blow bubbles!
Will you have a flower girl at your wedding? Which traditions are you sticking to, and which are you changing?