I talked about the pros and cons of holiday weddings earlier this week, but one thing I failed to mention is the tremendous decorating potential for holiday weddings. When you think of a Halloween wedding, Christmas wedding or even Valentine's Day wedding, no doubt your mind starts to envision the colors, motifs and other decorative touches that would be easy to incorporate into centerpieces and stationery. For New Year's Eve weddings, bling is the thing that sticks out in my mind. It's the one time of year that you can throw on that sparkly sequin number and no one will question it! Whether you are drawn to the classic, rich gold bling or modern platinums and silvers, New Year's Eve calls for some sparkles!
Check out these glitzy New Year's Eve inspired wedding photos:
From Sweet Tea Photography, courtesy of Elizabeth Anne Designs
From the Design Trends blog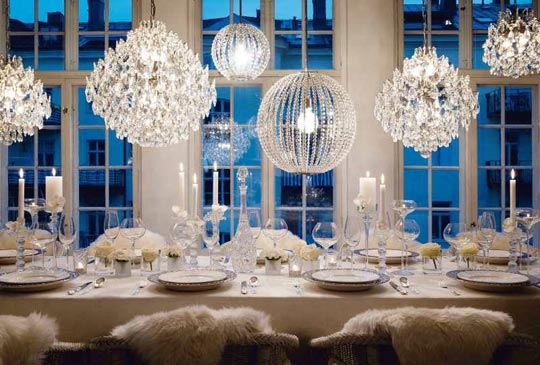 Kristen Steele Photography, courtesy of the Hostess with the Mostest Blog
There's no denying the amazing photo opportunities that exist for New Year's Eve wedding celebrations. Photographers for New Year's Eve weddings have two great kisses to capture – the first kiss as husband and wife and another as the clock strikes midnight.  I love these!
From wedding photographers Gerald and Airika Pope
From Grazier Photography
I hope your New Year's Eve celebration is as sparkly as these!!!